4 Key Trends Effecting Homes for Sale in Loveland, Ohio
As we move into the second half of the year, one thing is clear: the Homes for Sale in Loveland Ohio is one for the record books. The exact mix of conditions we have today creates opportunities for both buyers and sellers. Here's a look at four key components that are shaping this unprecedented market.
A Shortage of Homes for Sale in Loveland Ohio
Earlier this year, the number of homes for sale in Loveland Ohio fell to an all-time low. In recent months, however, inventory levels are starting to trend up. The latest Monthly Housing Market Trends Report from realtor.com says:
"In June, newly listed homes grew by 5.5% on a year-over-year basis, and by 10.9% on a month-over-month basis. Typically, fewer newly listed homes appear on the market in the month of June compared to May. This year, growth in new listings is continuing later into the summer season, a welcome sign for a tight housing market."
This is good news for buyers who crave more options. But even though we're experiencing small gains in the number of available homes for sale in Loveland Ohio, inventory remains a challenge in most states. That's why it's still a sellers' market, giving homeowners immense leverage when they decide to make a move.
Buyer Competition and Bidding Wars
Today's ongoing low supply, coupled with high demand, creates a market characterized by high buyer competition and bidding wars. Buyers are going above and beyond to make sure their offer stands out from the crowd by offering over the asking price, all cash, or waiving some contingencies. The number of offers on the average homes for sale in Loveland Ohio broke records this year – and that's great news for sellers.
The latest Confidence Index from the National Association of Realtors (NAR) says the average home for sale receives five offers (see graph below):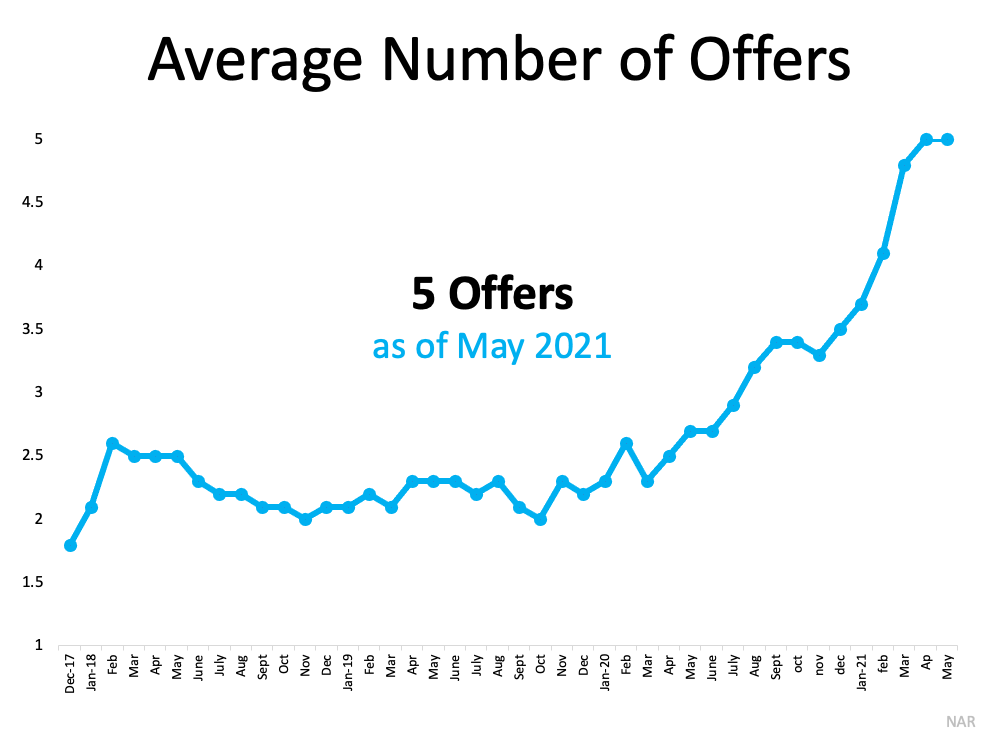 For buyers, the best way to put a compelling offer together is by working with a local real estate professional. That agent can act as your trusted advisor on what terms are best for you and what's most appealing to the seller.
Home Price Appreciation
The competition among buyers is driving prices up. Over the past year, we've seen home price appreciation rise across the country. According to the most recent Home Price Index (HPI) from CoreLogic, national home prices increased 15.4% year-over-year in May:
"The May 2021 HPI gain was up from the May 2020 gain of 4.2% and was the highest year-over-year gain since November 2005. Low mortgage rates and low for-sale inventory drove the increase in home prices."
Rising home values are a big part of why real estate remains one of the top sought-after investments for Americans. For potential sellers, it also means it's a great time to list your house to maximize the return on your investment.
A Rise in Home Values and Equity
The equity in a home doesn't just grow when a homeowner pays their mortgage – it also grows as the home's value appreciates. Thanks to the jump in price appreciation, homeowners across the country are seeing record-breaking gains in home equity. CoreLogic recently reported:
"…homeowners with mortgages (which account for roughly 62% of all properties) have seen their equity increase by 19.6% year over year, representing a collective equity gain of over $1.9 trillion, and an average gain of $33,400 per borrower, since the first quarter of 2020."
That's a major perk for households to leverage. Homeowners can use that equity to accomplish major life goals or move into their dream homes.
Bottom Line
If you're thinking about buying or selling a home in Loveland Ohio, there's no time like the present. Let's connect to talk about how you can take advantage of the conditions we're seeing today to meet your homeownership goals.
 Are the Homes for Sale in Loveland, Oh becoming less affordable?
The short answer is YES: it's less affordable to purchase a home for sale in Loveland today than it was a year ago. However, it's important to give this trend context. Is it less expensive to buy a house today than it was in 2005? What about 1995? What happens if we go all the way back to 1985? Or even 1975?
Obviously, the price of the homes for sale in Loveland has appreciated dramatically over the last 45 years. So have the prices of milk, bread, and just about every other consumable. Prices rise over time – we know it as inflation.
However, when we look at housing, price is just one component that makes up the monthly cost of the home. Another key factor is the mortgage rate at the time of purchase.
Let's look back at the cost of a home over the last five decades and adjust it for inflation by converting that cost to 2021 dollars. Here's the methodology for each data point of the table below:
Mortgage Amount: Take the median sales price at the end of the second quarter of each year as reported by the Fed and assume that the buyer made a 10% down payment.
Mortgage Rate: Look at the monthly 30-year fixed rate for June of that year as reported by Freddie Mac.
P&I: Use a mortgage calculator to determine the monthly principal and interest on the loan.
In 2021 Dollars: Use an inflation calculator to determine what each payment would be when adjusted for inflation. Green means the homes for sale in Loveland were less expensive than today. Red means they were more expensive.
The Appreciation of Homes for Sale in Loveland, Oh and What It Means for Sellers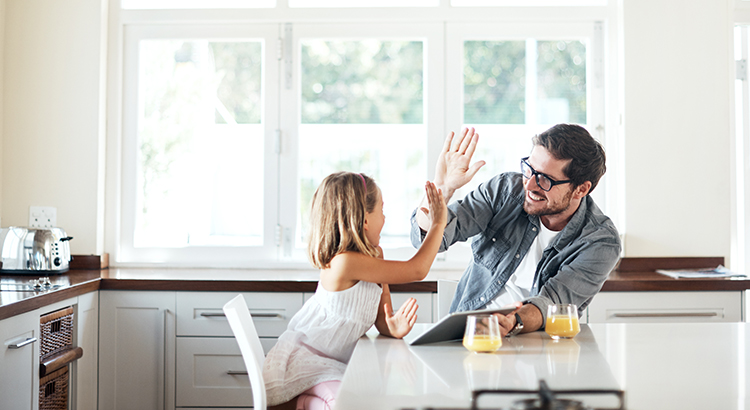 What do you think when you hear homes for sale in Loveland, OH combined with the phrase home price appreciation? What does that mean to you? Chances are you know it has to do with rising prices of available homes for sale in Loveland, OH. And as a seller, you know rising home prices are good news for your potential sale. But let's look past the dollar signs and dive deeper into the concept. To truly understand home price appreciation, you need to know how it works and why it matters to you.
Investopedia defines appreciation like this:
"Appreciation, in general terms, is an increase in the value of an asset over time. The increase can occur for a number of reasons, including increased demand or weakening supply, or as a result of changes in inflation or interest rates. This is the opposite of depreciation, which is a decrease in value over time." 
When we consider this definition and how it applies to real estate, a few words stick out: supply and demand. In today's real estate market, we're experiencing high buyer demand and very few sellers listing their homes for sale (see maps below):
No matter the industry, anytime there's more demand than supply, prices naturally rise. It happens because buyers are willing to pay more to secure the scarce product or service they're looking for. That's exactly what's happening in today's real estate market. Buyers are competing with one another to purchase a home, leading to bidding wars that drive prices up. For sellers, the rising prices mean that opportunity is knocking.
According to Quicken Loans, the national average home price appreciation rate is between 3-5% in a typical year. Today, home prices are appreciating well beyond the norm thanks to high demand. Here are the latest expert projections on the rate of home price appreciation for this year (see chart below):
Compared to the normal pace of 3-5% appreciation per year, the current average forecast of nearly 11.5% is significant.
For sellers, this means that with the current rise in prices, your house may be worth more than you realize. That price appreciation helps give your equity a boost. Equity is the difference between what you owe on the home and its market value based on factors like price appreciation. It works like this (see chart below):
You can use your built-up equity to power a move into your dream home, or you can put it toward life-changing goals like funding an education or opening a business.
But don't wait. While price appreciation is strong now, those same experts say it'll start to appreciate at a more normalized pace next year. If you list your house sooner rather than later, you'll be in a better position to capitalize on the higher-than-average home price appreciation we're seeing today.
Bottom Line
If you're thinking of selling your house, there really is no time like the present. Let's connect so you can get an expert market analysis of your home and its potential.
Ask Yourself these Questions When looking at Homes For Sale in Loveland, OH.
Sometimes it can feel like everyone has advice when it comes to buying a home for sale in Loveland, Oh. While your friends and loved ones may have your best interests in mind, they may also be missing crucial information about today's housing market that you need to make your best decision.
Before you decide to buy a home for sale in Loveland, OH, you should know how to answer these three questions.
1. What's Going on with Home Prices?
Home prices are one factor that directly impacts how much it will cost to buy a home and how much you stand to gain as a homeowner when prices appreciate.
The graph below shows just how much experts are forecasting prices to rise this year: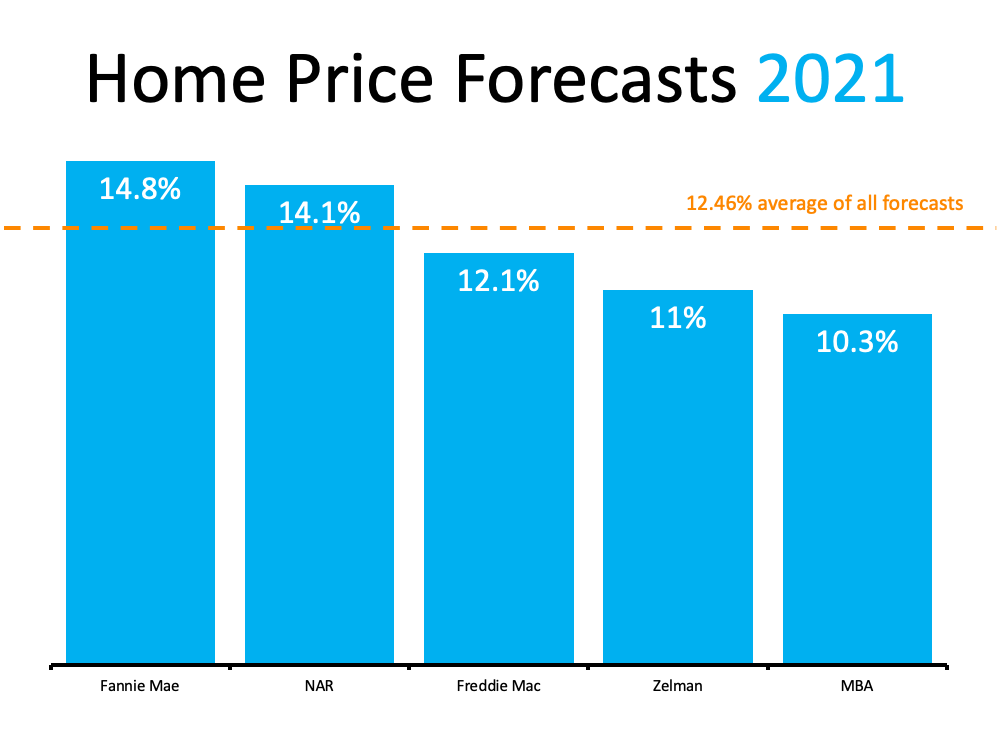 Continued price appreciation is great news for existing homeowners but can pose a significant challenge if you wait to buy. Using these forecasts, you can determine just how much waiting could cost you. If prices increase based on the average of all forecasts (12.46%), a median-priced home that cost $350,000 in January of 2021 will cost an additional $43,610 by the end of the year. What does this mean for you? Put simply, with home prices increasing, the longer you wait, the more it could cost you.
2. Are Today's Low Mortgage Rates Going To Last?
Another significant factor that should inform your decision is mortgage interest rates. Today's average rates remain close to record-lows. Much like prices, though, experts forecast rates will rise over the coming months, as the chart below shows:
Your monthly mortgage payment can be significantly impacted by even the slightest increase in mortgage rates, which makes the overall cost of the home greater over time when you wait.
3. Why Is Homeownership Important to You?
The final question is a personal one. Before deciding, you'll need to understand your motivation to buy a home and why homeownership is an important goal for you. The financial benefits of owning a home are often easier to account for than the many emotional ones.
The 2021 National Homeownership Market Survey shows that six of the nine reasons Americans value homeownership are because of how it impacts them on a personal, aspirational level. The survey says homeownership provides:
Stability
Safety
A Sense of Accomplishment
A Life Milestone
A Stake in the Community
Personal Pride
The National Housing & Financial Capability Survey from NeighborWorks America also highlights the emotional benefits of homeownership: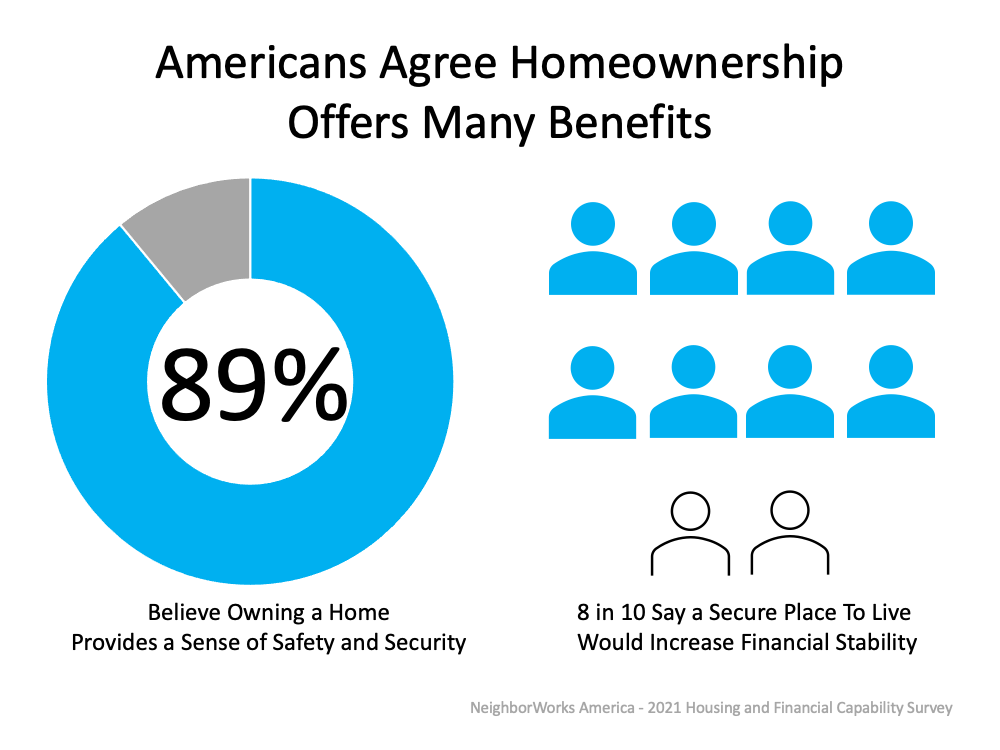 Clearly, there's a value to homeownership beyond the many great financial opportunities it provides. It gives homeowners a sense of pride, safety, security, and accomplishment – which impacts their lives and how they feel daily.
Bottom Line
Homeownership is life-changing, and buying a home can positively impact you in so many ways. With any decision this big, it helps to have a trusted advisor by your side each step of the way. If you're ready to begin your journey toward homeownership, let's connect to discuss your options and begin your journey.