Cincinnati home values indicate  2021 Is Still the Year To Sell
If you're trying to decide whether or not to sell your house, this is the time to think seriously about making a move. Fannie Mae's recent Home Purchase Sentiment Index (HPSI) reveals the number of respondents who say it's a good time to sell is higher now than it was over the past few summers (see graph below). Today, the majority of consumers, 75 percent, say it's a good time to sell a house.
Why is sellers sentiment up year-over-year?
The higher good time to sell sentiment has to do with today's market conditions, specifically low housing supply and high buyer demand. In the simplest terms, we don't have enough houses available for sale to meet buyer demand.
According to the latest data from the National Association of Realtors (NAR), we're still firmly in a sellers' market because housing supply is well below a balanced norm (shown in the graph below).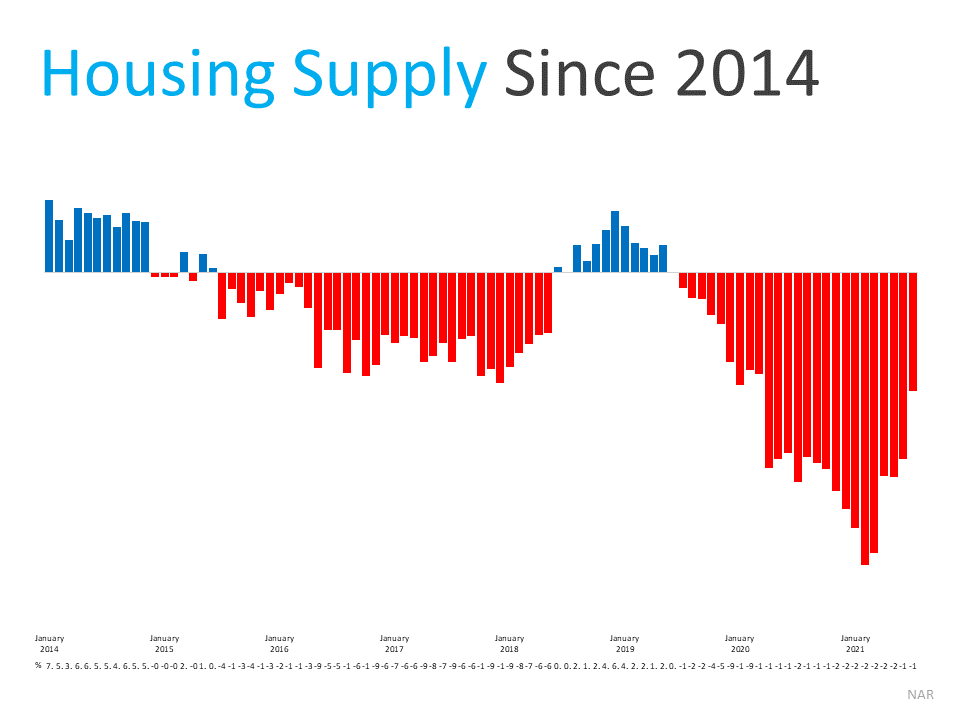 Clearly, the scales are tipped in a seller's favor today. But while housing supply is undeniably low, the right side of the graph shows how the inventory situation is improving little by little each month as more sellers list their homes for sale.
As a seller, that means each month, buyers have more options to pick from. By extension, that means your house may get less buyer attention with time. Danielle Hale, Chief Economist for realtor.com, explains it like this:
"More homeowners continue to list homes for sale compared to a year ago… Notably, while new listings continue to lag behind a more 'normal' 2019 pace, the gap is shrinking. Even though homes continue to sell quickly thanks to high demand and limited supply, new listings are subtly shifting the balance of market conditions in favor of buyers." 
So, what's that mean for you?
If you've been waiting for the perfect time to sell, there may not be a better chance than right now. Inventory is gradually increasing each month, so selling sooner rather than later will help you maximize your home's potential.
Bottom Line
If you're planning to sell your house, 2021 is still the year to do it. The unique mix of low supply and high demand won't last forever. Let's connect to discuss what you need to do now to sell your house and take advantage of this sellers' market.
The information is provided supplied by the Cincinnati Area Board of Realtors. The percent change is the comparison to the same month prior year. Data updated on 08/10/2021.
July 2021 – Is it the Beginning of a Market Change for Cincinnati Home Values?
The average home price in Cincinnati jumped to $247,000. This is due to record low inventory. July showed an interesting shift in Cincinnati Home Values. Compared to June 2021, the total sold volume is down $152,614,612 a decrease of 19.5%. While the Median Sold price is up 12.5% from July 2020, it is down 2.6% from June 2021.
The Cincinnati area real estate market tends to follow a consistent trend throughout the years. A lot of factors go into these trends. However, we have never saw an active inventory peak in 2020 like we have seen in years prior. In fact, mid-2019 into 2021 saw a mostly downward trend.
"We are excited to see the active inventory start to trend upward!" says the President of the Cincinnati Area Board of REALTORS®. "While buyers are still feeling the pressure of the competitive market, this trend suggests that there might be some relief offered in the near future."
Active inventory which is shown below is the number of properties available for sale at the end of the month, based on contract date.
Cincinnati is located in the southwest corner of Ohio and the Ohio River is the southern most border. Easily reached from Interstate 1-71 or I-75, Cincinnati has several major sports teams including: the Cincinnati Reds,  the Cincinnati Bengals; and the newest major sports team is FC Cincinnati soccer. Cincinnati also loves the Cincinnati Cyclones, which is our minor league ice hockey team. In addition to some great sports teams Cincinnati also is home to the city's largest institution of higher education, the University of Cincinnati, was founded in 1819 as a municipal college and is now ranked as one of the 50 largest in the United States.
The Impacts of a Home Sale to Cincinnati Home Values
If you're thinking of buying or selling a house in Cincinnati, chances are you're focusing on the many extraordinary ways it'll change your life. What you may not realize is that decision impacts people's lives far beyond your own. Home purchases and sales are significant drivers of Cincinnati home values and all economic activity. They have a major impact on your community and the entire U.S. economy via the multiple industries and professionals that take part in the process.
The National Association of Realtors (NAR) releases a report each year that highlights just how much economic activity a home sale generates. The chart below shows how the sale of both a newly built home and an existing home impact the economy: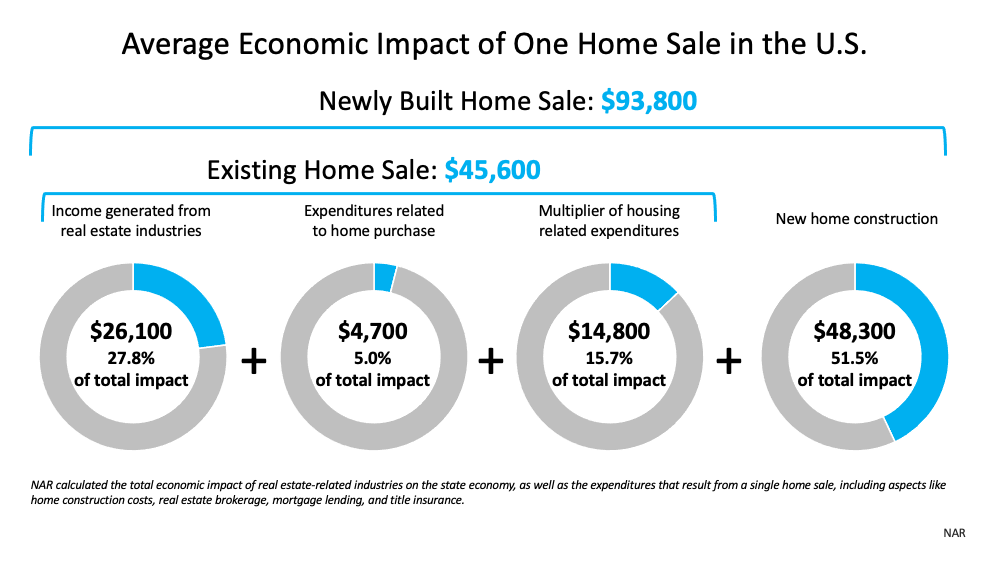 To dive a level deeper, NAR also provides a detailed look at how that varies state-by-state for newly-built homes (see map below):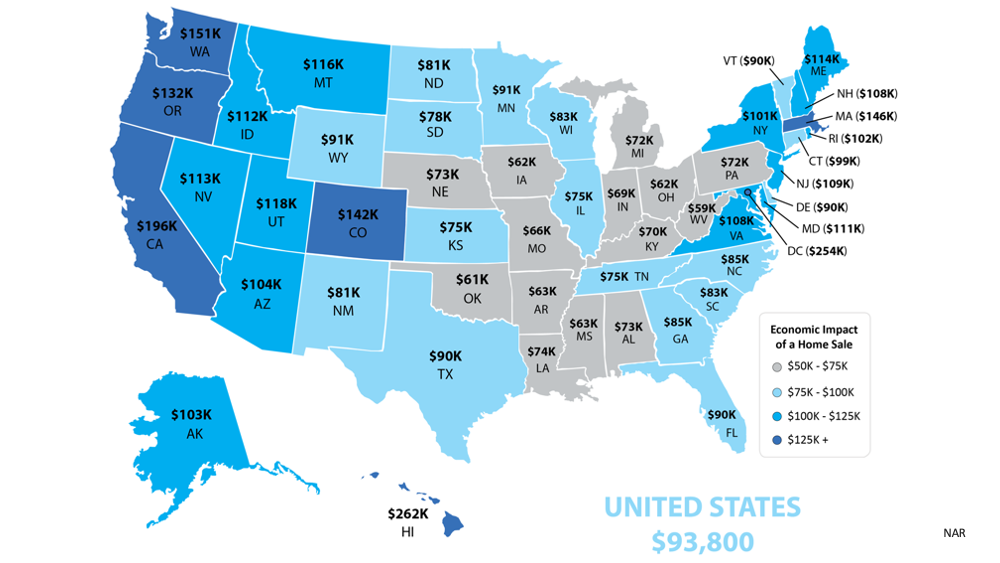 As you can see, a single home sale can have a massive effect on the overall economy. Ali Wolf, Chief Economist for Zonda, talks about this in a recent article, noting there's a significant impact at each distinct phase of the transaction:
"The housing market contributes to the economy in four main stages: during planning and land development, throughout the actual construction of the home, at the point of sale, and upon moving in."
When you buy or sell a home, you're leaving a lasting impression on the community at large in addition to fulfilling your own needs. That's because each stage of the process involves numerous contractors, specialists, lawyers, town and city officials, and so many other professionals. Every individual you work with, from your trusted real estate advisor to the architects who design new homes, has their own team of professionals involved behind the scenes.
Bottom Line
Homebuyers and sellers are economic drivers in their community and beyond. If you're thinking of buying or selling, let's connect today to start the process. It won't just change your life; it'll make a powerful impact on our entire community.